2016 Critical and Documentary Writing
The 2016 facilitation grants were dedicated to the development and delivery of programs aimed at the advancement of critical discourse and documentary work about the visual arts in NB. Sheila Hugh Mackay Foundation is proud to contribute to the growth of the visual arts through this response to articulated needs of the arts community.
Kathryn McCarroll, Executive Director of the Foundation notes that the Board of Directors of the foundation sought professional adjudication of the many proposals in response for the foundation's 2016 call for projects focused on the advancement of critical discourse about New Brunswick visual arts. "I would like to express appreciation to Suzanne Alexander, Phillip Lee and in the selection of 2016 projects. Their knowledge and experience is deeply appreciated and respected by the members of the Board of Directors, who seek to maximize all investments for the benefit of New Brunswick artists."
For more information of the 2016 projects, follow the links:
Galerie Sans Nom – Mario Doucette (publication)
The Sheila Hugh Mackay Foundation was proud to partner with Galerie Sans Nom in the publication of Mario Doucette, a critical review and documentation of a significant body of work by one of New Brunswick's rising stars. The foundation works to support the visual arts through awards and grants to recognize achievement and support advancement of our artists. This project was an opportunity to contribute to New Brunswick cultural heritage and to champion Mario Doucette, an artist of unique power and vision.
In 2014, Mario Doucette was the inaugural winner of the Sheila Hugh Mackay Foundation Marie Hélène Allain Fellowship, a juried award for artistic excellence by a mid career New Brunswick artist. Jurors Thaddeus Holownia, Tom Smart and Louise Poulin characterized Doucette as an emerging talent deeply engaged in significant work. – more
Canadian Art Magazine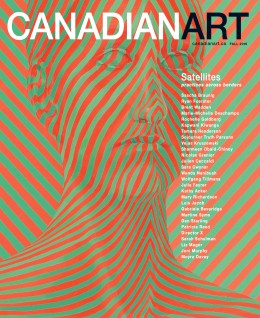 Sheila Hugh Mackay Foundation awarded 2016 Sheila Facilitation Grant to the Canadian Art Foundation in support of a year long series of articles exploring the contemporary visual art scene in New Brunswick. Beginning in May 2016, Canadian Art Magazine issued a call to New Brunswick writers to submit articles reflecting on work being produced in New Brunswick. "Spotlight on New Brunswick" featured articles in both the print and digital editions of the national art magazine, which reached over 200,000 readers.
Editor-in-chief David Balzer explained "The aim of the series was to bring attention to New Brunswick visual art—including the province's artists, curators and galleries—and to forge connections with New Brunswick-based writers and critics, thereby nurturing writing talent and increasing critical discourse of the art produced and shown in the province." – more